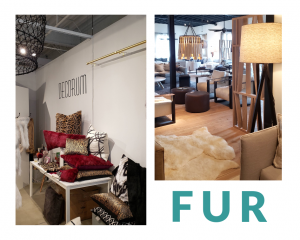 One of my favorite parts of being a designer is seeking out unique vendors and products. I am always on the hunt for something a little different for my clients. As a first time attendee of High Point Market, I really had no idea what to expect. This is where interior designers go to find new product and preview upcoming releases from home furnishing manufacturers. Some brands have showrooms year round, and many more set up for "Market" for one week each Spring and Fall. Equated to the "fashion show for home furnishings", this is a Trade Only locale. It's strictly for design and furniture professionals and not open to the general public, so I'm excited to share with you some of the gems I found at the Spring show this past April. With more than 2,000 exhibitors and 12 Million square feet of showroom space, I feel like I barely scratched the surface during the two days I was there, but I saw enough to pick up a few common threads: Fur, Folds and Fun!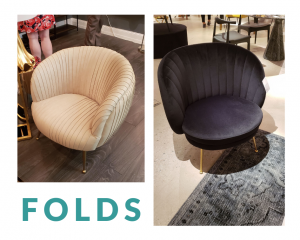 Yes, real fur and hides. Fur pillows, fur throws and even fur lamps…some of which were dyed crazy colors. Now this is the only thing I will not be "real" with you about…fur. Beyond the many ethical reasons I could spout, I simply think that it's gross. But, fur is…interesting? Back around 2007-2009, I remember a short stint when cowhide was all the rage. People went crazy with it. Cowhide bowls, cowhide balls (Did I say balls?!) and anything decorative you could imagine. Thankfully, demand diminished quickly, and the trend fizzled out quickly. I'm hoping this neo-furrycolor-revival thing does, too.
Pleats and channels are coming back in for upholstered goods. It's a natural progression away from all of the tufted offerings that we've been seeing lately. These stitch techniques give a piece more of a "hand made quality" which, in my opinion, gives it an upscale boost. Add pleats to a soft velvet pieces and it will look delicate and dainty. Add channels to a vinyl piece and you'll get a vintage hot rod vibe. The beauty of custom furnishings is that the sky's the limit!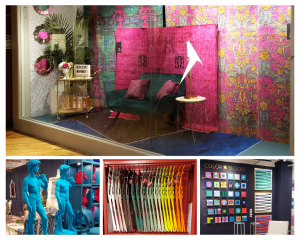 Gone are the days of yester-grey…well, kind of. While I still noticed quite a bit of muted neutrals, color is starting to get back in the mix. Jewel tones mixed with their pastel counterparts created stunning visuals throughout the show. Colorful interiors have historically been the result of optimism returning to society after hard times. The grey/greige trend picked up in about 2010 when the recession was still full force and things were a little depressing all around. In hard times, people naturally cling to familiarity of simple things, and neutrals tend to offer stability. Given the rise of maximalism and bright colors, I'm hopeful that people are feeling more confident, adventurous and FUN with their design choices again.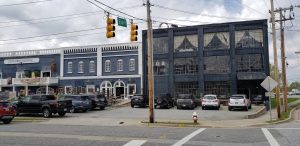 Bonus: Old Buildings are cool!
(But, I'm sure you already knew that.) One of the most exciting parts of the show, for me, was the way the city itself is preserving and actually repurposing their historic buildings. Several of the showrooms I visited were in historic storefronts and restored buildings. To learn more about the City of High Point Preservation Society and their efforts, you can check out their
FaceBook page
.