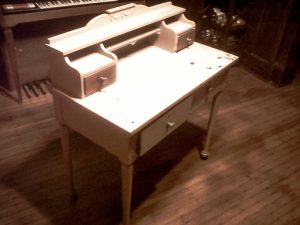 This piece was one of my first experiments with wood finishing. It was found on the curb by a neighbor. He stripped the drawers and offered it to me. I was drawn to it for a few reasons, and eagerly accepted his offer. The minimal yet detailed ornamentation, the tone of the wood, but my favorite detail is the adorable wooden casters. I finished cleaning it up, to remove most of the yellow paint, but wanted to leave a little texture.
Although, I think it is actually a secretary meant for writing letters, I love all of the dainty nooks for my beauty stuff. I added some small vintage ashtrays to store jewelry and bobby bins, tucked away on the shelves.
I don't have a lot of antiques, but the ones I do, I adore. Although, I am not really sure what they're worth to anyone else. Recently though, I attended a lecture discussing how now is a great time to invest in antiques. Everyone wants vintage, and antiques are more affordable again. I believe that when a piece is functional and quirky, it doesn't matter what year it was made, it will always come back into style.