---
Commercial Interior Design Services
Office, Retail & Community Spaces That Work
---
With the right commercial interior design, proper planning, and dedicated oversight, an office or retail space can provide a transformative experience that reinforces your company's core values and communicates your unique brand identity. Our team of experienced experts can guide you through every step of the planning, design, and construction process to help achieve your vision.
---
Productive and inspiring spaces don't happen by accident. The ideal environment is the result of informed planning centered around your business goals. Our work begins long before the walls are painted and the furniture arrives to ensure your space effectively satisfies your unique objectives.
Looking to update your office design, restaurant design, or brewery design? Our team will meticulously research and evaluate the pros and cons of available options to help identify the perfect space that aligns with your business needs.
Cost is a fundamental consideration for any project. With labor and material costs constantly changing, we don't provide estimating services. We collect estimates and compile into a project budget that is shared, and then refined with the client.
Whether you are moving into a new location or renovating your existing space, we can help make you execute your vision. We'll propose an efficient layout and relocate furniture, fixtures and utilities to improve functionality.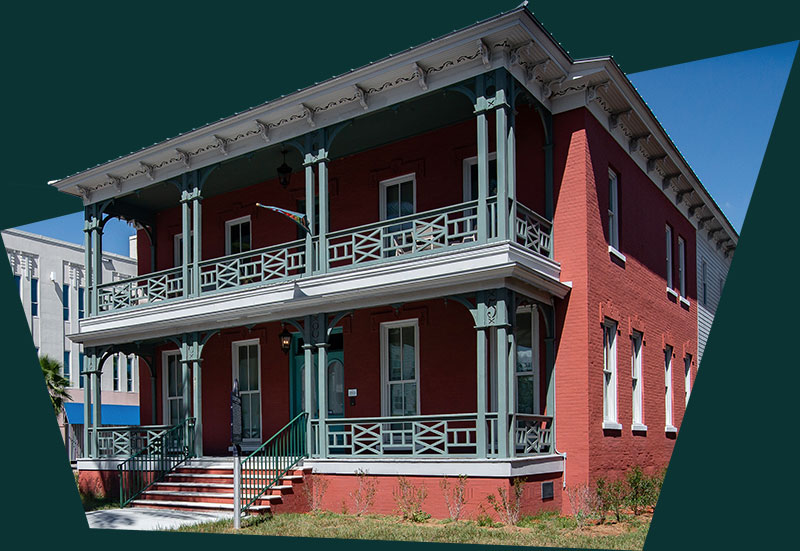 ---
We are passionate about historic preservation projects and specialize in returning them to their former glory. As one of Jacksonville's premier adaptive reuse firms, our team knows how to overcome the challenges that come with restoring old buildings and we can help you navigate the application process to qualify for any state and local grants or tax credits.
Learn More On Our Philosophy
Learn More On Our Philosophy
---
Our clients expect excellence and we strive to deliver perfection on every project. We offer full-service project management from start to finish and seek to create a stree-free experience. We'll handle everything and keep you well-informed along the way. From mixed-use development to adaptive reuse projects, you can enjoy peace of mind knowing that your commercial interior design project is under control and within budget, no matter how big or small the project.
---
Great commercial interior design is in the details. Colors, decor, furniture, and fixtures all affect how we process our environment and the right choices can create a space that is comfortable and welcoming for your team and customers alike.
With an endless array of paint, flooring, furniture and finishes to choose from, our team can help you make the most appropriate selections to execute your vision in a way that reflects your business's culture and values.
Visioning and selection are only the beginning. Procuring the necessary items from dependable vendors and coordinating their delivery and installation according to the project schedule is a process we have perfected.
When all is said and done, everything should be perfect and in its place. We live for the moment you and your team enter your new or redesigned space for the first time and experiences your vision firsthand.
Ready to Transform Your Space?
Let's bring your vision to life! Contact us today to get started.