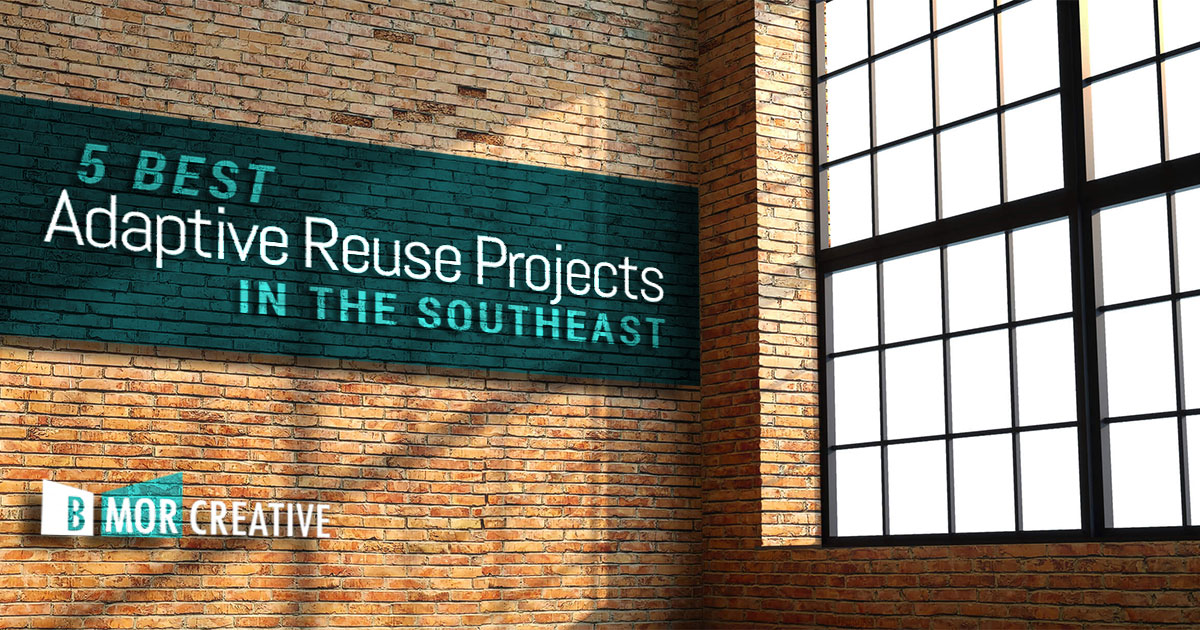 If there's anything you should know about BMor Creative, it's that we love a good challenge and the satisfaction that comes with handling each one with efficiency and grace. Adaptive Reuse is one of the topics that we find most fascinating and it's definitely our favorite type of interior design project to work on. The challenges that come with this type of project are always unique and often surprises must be dealt with as they arise. We decided to share some of our favorite, most successful adaptive reuse projects in the southeast of the US. The criteria considered was not how "cool" the end result looked, but how creative the solution was and how it successfully filled a need for the surrounding community. Before we begin discussing these projects, we must first define adaptive reuse.
What is Adaptive Reuse?
Adaptive Reuse is an essential element of Historic Preservation that allows previously obsolete buildings a second chance at being utilized while still maintaining their original character and charm. This is important as it allows more buildings to be restored while still serving the public in a way that adapts to its current needs. For instance, a city may determine that it needs a much larger courthouse than the one they currently have. Perhaps it doesn't make sense to build an addition, but rather to build a new courthouse that better suits the city's needs. So what happens to the old courthouse?
Ideally, the previous structure would be adaptively reused in a manner that both fills a need for the public or a private business and still preserves the integrity of the building. The building could be transformed into anything from condos to an office building depending on what the layout is best suited for. With some reconfiguration of the interior spaces and adjustments to make it code-compliant for the new use, the building could be saved. Adaptively reusing the space would save on costly demolition costs, allow the city to sell it (which generates new revenue) and avoid the environmental toll that comes with disposing of old buildings and all of the materials in it, many of which are no longer used in modern construction. Adaptive reuse is a win-win in that it generates new revenue, preserves the integrity of a space, and avoids the environmental fallout that stems from disrupting and having to dispose of old, toxic materials.
Best Examples of Adaptive Reuse Projects
The Greenway Apartments | Adaptive Reuse in New Orleans, LA
Known for its rich historic culture, it's no surprise that the city of New Orleans is proactively hanging on to its built treasures. The Tulane Industrial Laundry building, built pre-1940 was left vacant for years before GCE Green Development brought it back to life as The Greenway Apartments. In the underdeveloped but growing area, these 12 apartments and commercial spaces might just be the turning point for real sustained growth in a neighborhood ripe with potential. Historic preservation in New Orleans is one of the top reasons people visit this city.
Ponce City Market | Adaptive Reuse of an Industrial Building in Atlanta, GA
This former Sears & Roebuck Co. distribution center turned mixed-use Ponce City Market might actually be our all-time favorite and not just of the southeast. Located on the Atlanta BeltLine, it serves as a destination for tourists and local cyclists alike. This 2.1 million square foot building now houses a food hall, beer garden, retail shops, offices, and apartments on the upper floors. The adaptive reuse of industrial buildings in Atlanta has been a key factor in the successful revitalization of many of its neighborhoods including the Fourth Ward where this project is located.
The Grey | Historical Preservation & Adaptive Reuse in Savannah, GA
This former Greyhound bus station was brought back to its iconic mid-century glory when Johno Morisano and Chef Mashama Bailey partnered up to open The Grey. Fascinated by both the history and potential of the building, they painstakingly restored most of the building's original character, including the Vitrolite facade, a material that is no longer manufactured. The perfect balance of old and new create the unique yet sophisticated style of this restaurant. Historic preservation in Savannah is not a differentiator but rather a uniting thread among downtown business owners.
Aloft Tampa Downtown | Adaptive Reuse Hotel in Tampa, FL
This unmistakenly mid-century gem was built originally as Mercantile Bank back in 1965 and was later an office building before lying vacant for almost 10 years. Punit Shah and Santosh Govindaraju stepped in and saw the potential through the flooded lobby and inoperable elevators. They worked diligently to convince Aloft's parent company, Starwood Hotels and Resorts to consider the site for a new hotel. The once dilapidated building scheduled for demolition is now a 130-room boutique Aloft hotel with a bar, poolside lounge, and stunning river views. Adaptive reuse in Tampa has been one of the strongest drivers of its downtown revitalization.
Echo Mountain Recording | Historic Preservation & Adaptive Reuse of a Church in Asheville, NC
Our love for preservation might only be surpassed by our love for music, and Echo Mountain Recording is truly the best of both worlds. What was once a Methodist church built in 1928 is now a state-of-the-art recording studio. Unique considerations were taken to maintain as much of the historic character as possible, such as splitting original historic doors to add soundproofing materials. What is a further demonstration of a culture of care is when they purchased and adaptively reused the old Salvation Army building next door, built in 1926. The culture of adaptive reuse in Asheville has allowed it to save many old buildings and maintain its unique character.
The Future of Adaptive Reuse
Adaptive reuse is a hot topic that is gaining popularity among many cities across the world. Whether it is cities or private entities, people are getting creative on how to save their history while accommodating modern needs. There are plenty of challenges and issues that arise in adaptive reuse projects, which is why it's important to work with an experienced professional to help navigate the various zoning, design, and construction considerations. Do you have a project you've been considering? Contact us to schedule an intro call and discuss it!