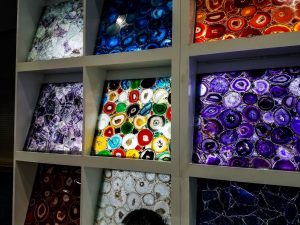 Last month, our annual trip to Coverings took us to Atlanta, GA to check out the latest looks in tile and stone. Amongst the same old wood-looks and subway tile, we discovered some incredible new gems. Seriously, gem slabs were all over the show and they are stunning!
The show was packed with every color imaginable, from black and white, pastels, to new shades of metallics. and fun geode patterns. Although we love traditional motifs, we were also pleased to see an expanded offering of fun cement-look patterns, as well.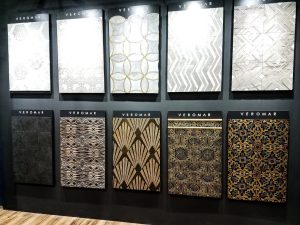 These new looks were refreshing, with a cool vintage vibe. There were a lot of new and interesting mosaics, and we can't wait for them to hit the market. These tiny tiles assembled to create classic textile patterns, like plaid and houndstooth, would be an awesome accent to any kitchen or bath.
Remember that bronze mirror look from the 70s? Well, be prepared to see a lot more of it coming in tile, and home accessories. We love the warm amber glow of it and are thrilled to have sources other than Salvation Army thrifting!