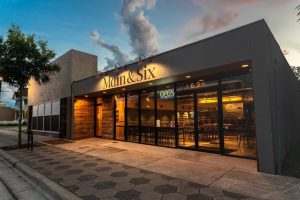 Main and Six Brewing Company is one of the most welcomed additions to Main Street, in Historic Springfield. It has the style, ambience and upscale nature rarely found in craft brewery taprooms and that was the vision from the start. Co-Owners Cindy Lasky & her son, Dennis Espinosa, (Head Brewer) encountered hurdles from the Zoning Department when they first announced their intentions. But they were certain this place was 'the one.' Soon after filing for an exemption, citizens of Springfield rallied and attended the hearings. Neighbors shared their enthusiasm for this type of establishment and cited examples of how breweries sparked transformation in many communities struggling to revitalize. It was huge win for Main and Six, and a victory for Springfield. However, this was just the beginning of all the hard work to be done.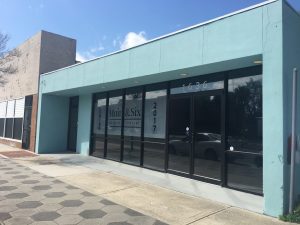 This quaint mid-century block building once housed a dental office, and was later a retail stationery store. Dennis and Cindy scooped up this little gem with the vision of bringing light to what was once just blight. Dennis, already a multiple award winning brewer, was ready to scale up his hobby. We focused on the Brewery first, to make sure there were plenty of tasty brews ready for the grand opening of the taproom. Extensive plumbing, mechanical and electrical modifications were required to accommodate it's very specific industrial use. Finally the Brewery was finished and Dennis could get to work!
The design concept for the taproom was a modern take on nostalgia. This was reflected in the already perfected brand designed by Pat Carter of 63 Visual. We drew inspiration from this as well as charming details unique to the neighborhood. The iconic hex pattern found throughout Springfield is sprinkled through the interior in a variety of scales and shades. Warm classic copper and wood, punctuated with black steel elements give a masculine, yet comfortable vibe.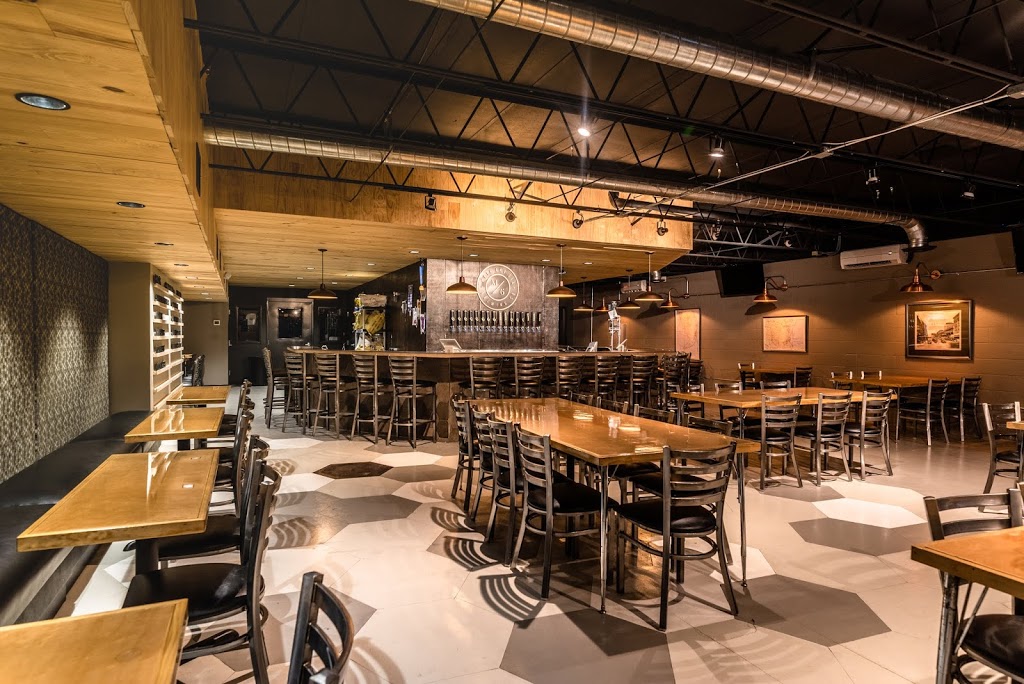 With a variety of seating options, you can have a totally different experience, whether sitting at the bar, at a booth, table, or even the back patio. We custom designed pieces and signage, working with local Springfield artisans to fabricate them. Local artist Josh Gaston supplied – from his own personal stash – plates of raw steel reclaimed from a 1920's CocaCola factory. These slabs were cut to create the half-hex bar top and steel inlays in the concrete floor. A faux finish was then applied to the interior walk-in-cooler to replicate the look of the steel. Adorned with a custom sign by Forge, of the Main and Six seal, the backdrop was complete for the 16-tap serving station.
Longing for an alternative to the hard metal chairs that have become so fashionable, we decided to create an area with fixed soft seating. Not only does this provide a comfortable place to stay a while, but it also absorbs some of the atmospheric sound, allowing you to have a conversation. The custom wood ceiling is made from reclaimed oak, a perfect alcove for an intimate group. Custom wall panels by Sargent Upholstery gave a soft backrest, some sound absorption and a fun splash of pattern along an otherwise stark wall.
The tap list was a collaborative design with Forge; our goal was something flexible but appearing intentional. (Chalkboard paint was out of the question!) The result was a system of rails with prefabricated beer names that could slide in and out as available. Since Forge is a local company, Dennis can create until his heart is content, and have new signs fabricated with a quick turn around.
Specific attention was paid to the lighting scheme, which is closely coordinated with the furniture layout. Each patron has a distinctive splash of light on their table top. From the street, a dimly lit space, looks lively and full of dramatic interest. The traditional style exterior lights give life to the hand-painted sign by Grant Thornton. Reclaimed fence panels were used at the entry alcove to break up the monotonous texture of the painted CMU. The result is an intriguing facade that is difficult to pass by.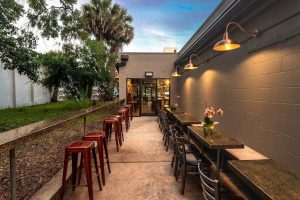 The grand opening took place during one of Springfield's largest events, PorchFest. The place was packed and has been frequently attended by many ever since. Dennis has gone on to win two awards for his Handsworth Brown Ale at both a state and national level. We love seeing our Small Business clients succeed!
For more photos of this project, visit our portfolio.